NVIDIA Clara Holoscan SDK
---
NVIDIA Clara™ Holoscan is the AI computing platform for medical devices that combines hardware systems for low-latency sensor and network connectivity, optimized libraries for data processing and AI, and core microservices to run streaming, imaging, and other applications, from embedded to edge to cloud.
Get Started with Holoscan SDK
Computational Instrument Platform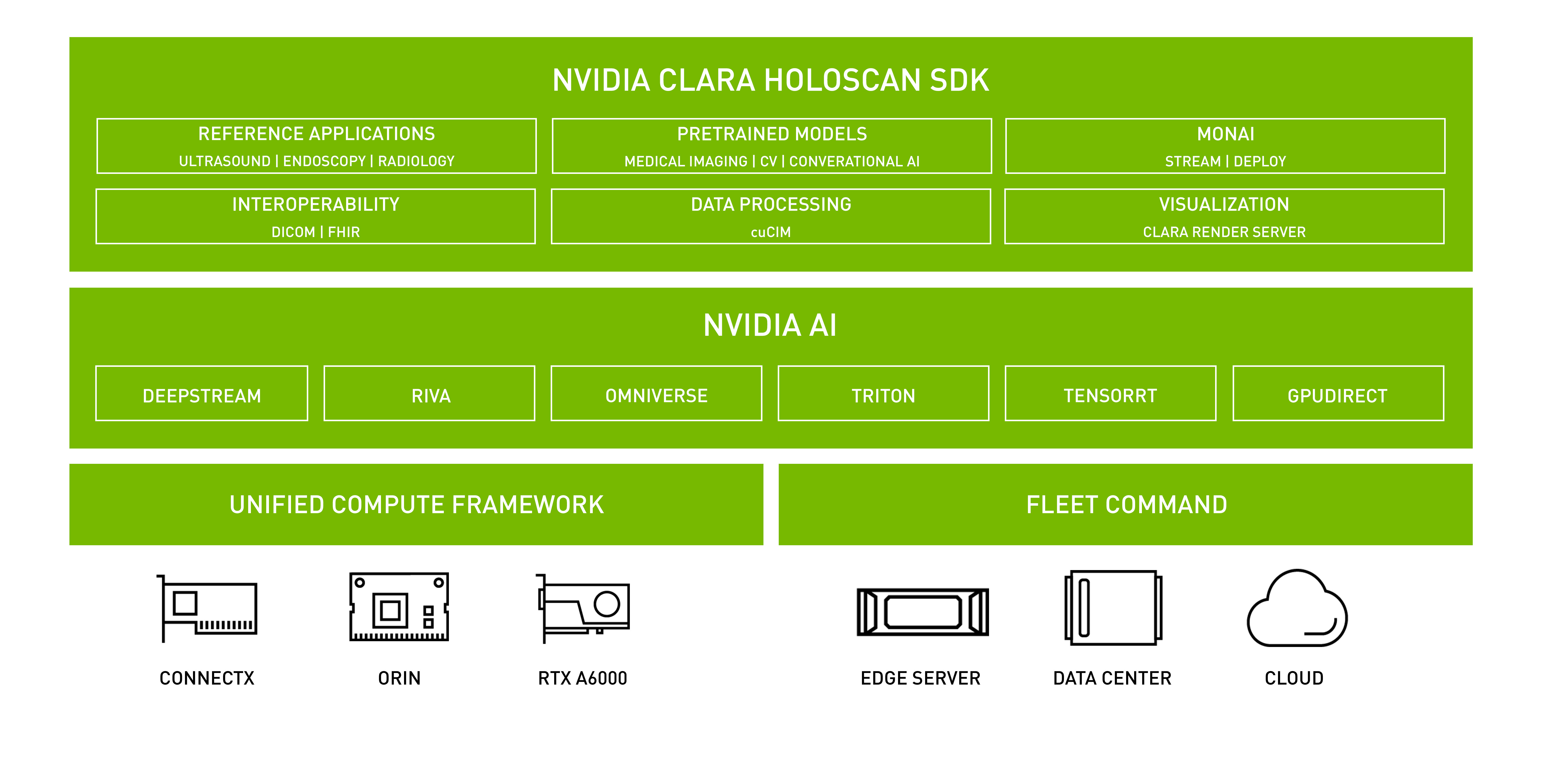 ---
Healthcare-specific acceleration libraries, Pre-trained AI Models, and Reference Applications for computational medical devices in ultrasound, endoscopy, surgical robotics, digital pathology, radiation therapy, patient monitoring CT, MRI, X-ray, Genomics, Microscopy.
NVIDIA RTX support - Docker and CUDA, TensorRT, dGPU enablement
NVIDIA Rivermax 100GbE streaming - Rivermax transport protocol streams data over ethernet directly into GPU GDDR DRAM using GPU Direct Technology
NVIDIA Clara Guardian support - Build edge AI applications to improve patient care and operational efficiency using everyday sensors like cameras & microphones
Endoscopy using NVIDIA DeepStream - Video-in and inference for endoscopy and other video-based modalities
Sensor Processing - Support for camera serial interface
AI endoscopy and ultrasound reference application
Data transfer latency measurement tool
First, apply for developer access to the Clara Holoscan SDK Program.
Second, download and install the SDK Manager. After logging in to SDK Manager, you'll be able to flash your device and install the Clara Holoscan SDK. For detailed instructions, please see the Clara AGX Dev Kit User Guide and Installing the Clara Holoscan SDK with SDK Manager.
Find the latest collection of AI frameworks and reference applications on the NGC Collection for Clara Holoscan.
Below you'll find documentation for both the Clara AGX Developer Kit and Clara Holoscan SDK. If this is your first time getting started with either product, we suggest starting with the NVIDIA Clara AGX User Guide.
NVIDIA Clara Developer Kits
The NVIDIA Clara Developer kit helps facilitate accelerated processing with 3rd party sensor front ends, High-Speed I/O with the ConnectX SmartNIC, the flexibility and efficiency of the Jetson SoC, and a powerful RTX-series Discrete GPU.
Find more about your hardware options on our Clara Developer Kits Page.
Disclaimer: Clara SDKs and samples are for developmental purposes only and cannot be used directly for clinical procedures.